things no one tells you about getting older #1687 - having a cup of milk and a banana two days in a row for breakfast makes you gain four pounds in two days. Holy moly...i'm not kidding. This is bonkers....
Moving on - I posted last week on two of the dem pages I'm in,
Noting the seeming lack of uniformity/direction from the Dem party and questioning what the Dem leadership are actually doing while the "grassroots" move. -
couldn't help myself!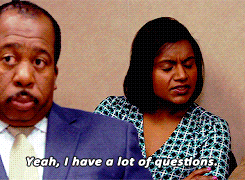 I knew I was going in with the high chance I was about nettle some people with my forthrightness but I'm getting frustrated and apparently (based on feedback) I wasn't alone.
Surprisingly only a couple were notably irked. After dm'ing a few of the people who posted responses, I got really great feedback actually!
One of which is to tie in to the precinct chair - as they're a direct connection to the Dem party.
I looked into my precinct chair - unsurprisingly I don't have one - mine's one of the farthest away from the county court. It's a 40 minute drive and you have to attend meetings. Still it's important to note.
The other dem page that I posted to - i got a dm this morning saying that the admins weren't going to approve it because it didn't meet their guidelines and they were concerned about the controversy.
I get it, I do...it's just I really think that these things need to be addressed/discussed - this might be one of the many reasons we (they) got here in the first place...right?...or maybe not...what do I know.
We went to the horse races on RR game over the weekend for La's birthday. She sent me an email Friday talking about crazy Left-wing media bias and guns don't kill people and checking on spoons cause they apparently make you fat as a comparison....I wrote back saying "
can you describe the spoon thing? Cause all I thought after reading it was "if a person wants to eat themselves to death with a spoon then that's a personal choice they made about their own life…". How does that compare with a gun that can be used irresponsibly to kill someone?"
Also watched Amy Schumer's new movie - good message, just kinda missed the mark somewhere and only a couple laughs. Still a fan.
I didn't try reading anything new this time - wasn't actually home a lot. Just re-reading scenes from favorite books. Trehan Daciano, Kulti. Can't go wrong there.